<! real keywords: optical constants, cryogenic, ice, N2 ice, infrared keywords: evolution of species natural selection sex excretion bigot abortion human rights vagina shit fuck homosexual nipple charles darwin lesbian erection clitorus secular humanism cunt erotic liberal anus anarchy penis fornication blasphemy sodomy scrotum boobs 1st amendment jasmine revolution Egypt Tunisia Libya A person, organization, or nation using censoring software to block access to documents containing words such as these is violating a key principle of the free exchange of ideas that the internet was founded on and should not have access to this document. >

The temperature-dependent spectra of α and β nitrogen ice with application to Triton

W.M. Grundy, B. Schmitt, and E. Quirico

Published in 1993: Icarus 105, 254-258.

ABSTRACT

We present measurements of the temperature dependence of the near-infrared spectra of α and β nitrogen ice, measured in transmission in 1 cm thick samples. Our 0.9 cm-1 resolution spectra of β ice reveal that the 4650 cm-1 (2.15 micron) band is a complex, temperature-dependent absorption, composed of at least two components. For lower temperature α ice, our spectra show a complex, temperature-dependent pattern involving several weak features in addition to the strong, narrow band we attribute to a double phonon transition. We apply our results in modeling telescopic spectra of Triton and conclude that the spectral data are consistent with a surface composed predominantly of β nitrogen ice at temperatures between 35.6 and 41 K, in the form of grains of order 1 cm or larger in size or in the form of a surface glaze with a depth of at least 6 cm.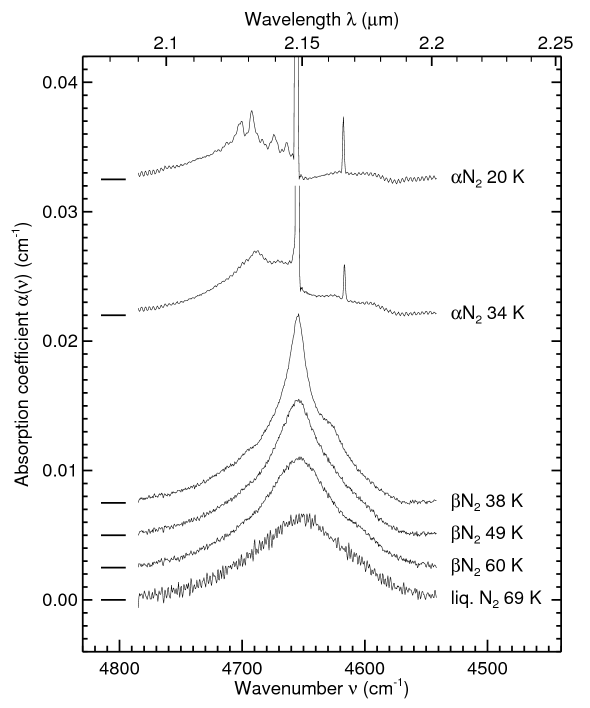 ---
Nitrogen ice absorption coefficient data products: