<! Real keywords: Pluto surface ices; Infrared spectroscopy; Outer Solar System; Volatile Transport; Seasonal Evolution. keywords: evolution of species natural selection sex excretion scrotum boobs 1st amendment jasmine revolution egypt tunisia libya bigot abortion human rights vagina shit fuck homosexual nipple charles darwin lesbian erection clitorus secular humanism cunt erotic liberal anus anarchy penis fornication blasphemy sodomy rick santorum taiwan china tiananmen syria A person, organization, or nation using censoring software to block access to documents containing words such as these violates the key principle of the free exchange of ideas that the internet was founded on and should not have access to this document. >

Near-Infrared Spectral Monitoring of Pluto's Ices II: Recent Decline of CO and N2 Ice Absorptions

Published in 2014: Icarus 235, 220-224.

W.M. Grundy1,2, C.B. Olkin2,3, L.A. Young2,3, and B.J. Holler2,4.

(1) Lowell Observatory, 1400 W. Mars Hill Rd., Flagstaff AZ 86001.

(2) Visiting/remote observer at the Infrared Telescope Facility, operated by the University of Hawaii under Cooperative Agreement NNX-08AE38A with the National Aeronautics and Space Administration, Science Mission Directorate, Planetary Astronomy Program.

(3) Southwest Research Institute, 1050 Walnut St. #300, Boulder CO 80302.

(4) Laboratory for Atmospheric and Space Physics, University of Colorado at Boulder, 1234 Innovation Dr., Boulder CO 80303.
---
Abstract
IRTF/SpeX observations of Pluto's near-infrared reflectance spectrum during 2013 show vibrational absorption features of CO and N2 ices at 1.58 and 2.15 μm, respectively, that are weaker than had been observed during the preceding decade. To reconcile declining volatile ice absorptions with a lack of decline in Pluto's atmospheric pressure, we suggest these ices could be getting harder to see because of increasing scattering by small CH4 crystals, rather than because they are disappearing from the observed hemisphere.
---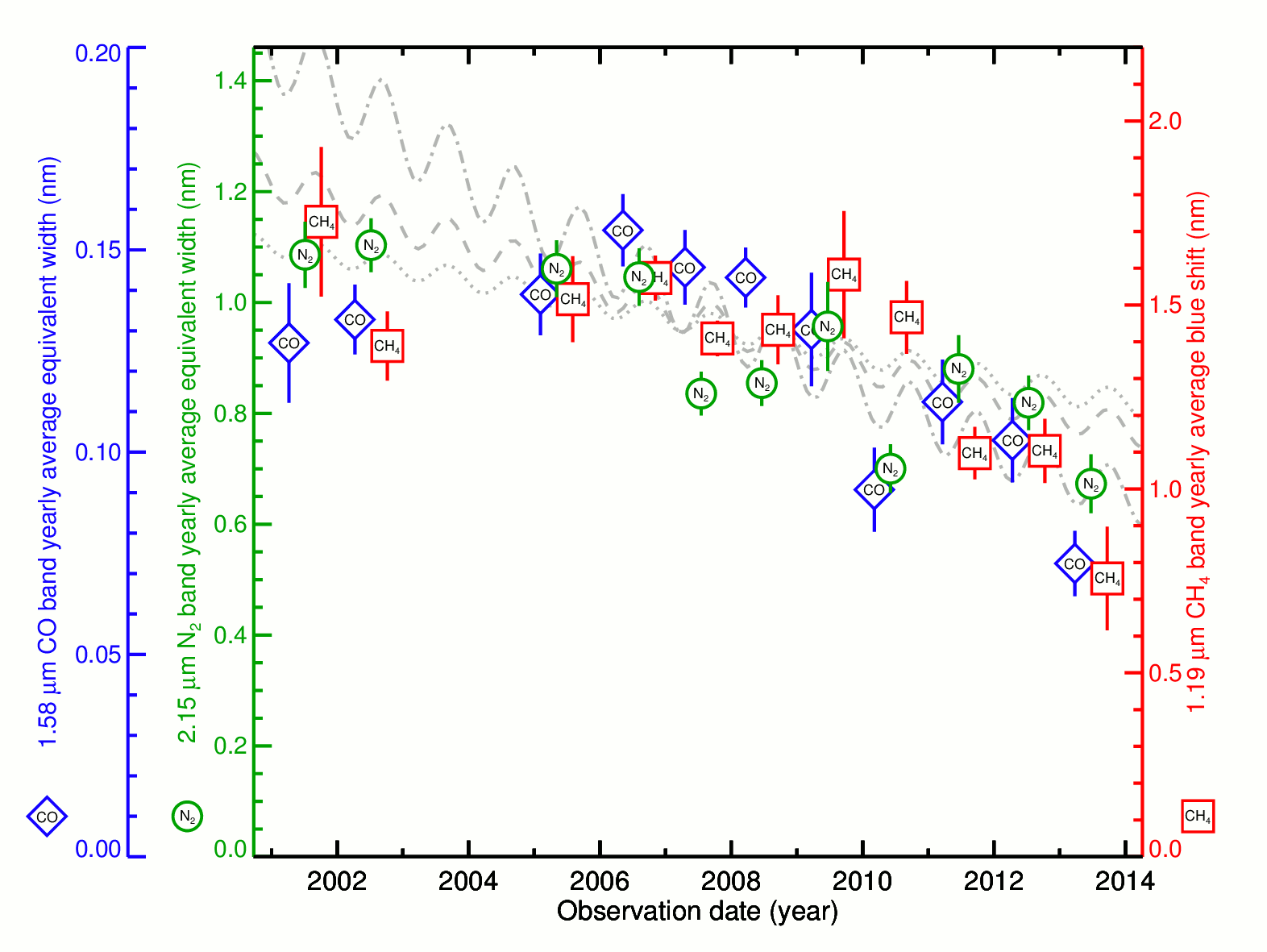 Fig. 2. Secular evolution of Pluto's CO and N2 absorptions as measured by taking the sinusoidal fit to the ensemble data set for each parameter and then refitting just the constant term to each year's data separately. Diamonds (far-left axis) are for the equivalent width of the CO ice absorption at 1.58 μm while circles (near-left axis) are for the equivalent width of the N2 ice absorption at 2.15 μm. Squares are for the blue shift of the 1.19 μm CH4 band as measured by cross-correlation with a model based on pure CH4 ice absorption coefficients from Grundy et al. (2002). Diamonds and squares are offset in time by a quarter year to minimize overplotting. The wavy, gray, broken-line curves (arbitrarily normalized, and only applicable to the equivalent width data) show secular declines produced by geometric effects with ice-covered regions rotating out of view as the sub-Earth latitude moves north. The dot-dash curve is for ice confined to Pluto's southern hemisphere, while the plain dashed curve is for ice on the southern hemisphere plus latitudes up to 20°N. The dotted curve is for an equatorial belt of ice between 20°N and 20°S latitude. Annual oscillations in these curves are due to the orbital motion of the Earth.
---
Data products associated with this paper
Circumstances of Pluto Observations
| | | | |
| --- | --- | --- | --- |
| UT date + hour | lon | lat | minutes |
| 2001/07/04 08:59 | 197.7 | 27.7 | 120 |
| 2001/07/07 09:12 | 28.2 | 27.6 | 147 |
| 2001/07/08 08:18 | 333.9 | 27.6 | 192 |
| 2002/06/24 06:32 | 102.5 | 30.0 | 44 |
| 2002/06/25 06:18 | 297.4 | 29.9 | 46 |
| 2002/06/26 06:30 | 240.6 | 29.9 | 48 |
| 2002/07/15 07:15 | 248.0 | 29.5 | 60 |
| 2002/07/16 07:18 | 191.6 | 29.5 | 80 |
| 2002/07/17 06:56 | 136.1 | 29.4 | 96 |
| 2002/07/18 06:49 | 80.0 | 29.4 | 88 |
| 2002/07/19 07:04 | 23.0 | 29.4 | 78 |
| 2002/07/20 06:48 | 327.3 | 29.4 | 92 |
| 2002/07/21 06:49 | 270.9 | 29.4 | 96 |
| 2002/07/22 06:43 | 214.8 | 29.4 | 104 |
| 2003/08/09 06:49 | 226.2 | 31.1 | 96 |
| 2005/04/15 13:09 | 104.2 | 37.1 | 176 |
| 2005/05/09 13:04 | 191.8 | 36.8 | 188 |
| 2005/05/23 11:16 | 127.1 | 36.5 | 184 |
| 2005/05/24 12:02 | 69.0 | 36.5 | 268 |
| 2006/07/19 08:19 | 107.9 | 37.0 | 148 |
| 2006/07/24 07:50 | 187.2 | 37.0 | 100 |
| 2006/07/25 07:44 | 131.1 | 36.9 | 160 |
| 2006/07/26 07:43 | 74.8 | 36.9 | 168 |
| 2006/08/08 07:08 | 63.5 | 36.7 | 126 |
| 2006/08/25 06:48 | 186.2 | 36.5 | 136 |
| 2007/06/23 10:47 | 73.1 | 39.5 | 32 |
| 2007/06/25 10:40 | 320.7 | 39.4 | 36 |
| 2007/08/06 07:16 | 121.8 | 38.5 | 104 |
| 2007/08/07 07:30 | 64.9 | 38.5 | 80 |
| 2007/08/08 07:04 | 9.6 | 38.5 | 108 |
| 2007/08/09 06:54 | 313.6 | 38.5 | 112 |
| 2007/08/10 07:04 | 256.9 | 38.5 | 116 |
| 2007/08/11 07:39 | 199.2 | 38.5 | 124 |
| 2008/06/16 11:00 | 356.5 | 41.4 | 52 |
| 2008/06/17 10:56 | 300.3 | 41.4 | 64 |
| 2008/06/18 11:06 | 243.5 | 41.3 | 34 |
| 2008/16/19 10:38 | 188.3 | 41.3 | 84 |
| 2008/06/20 10:40 | 131.9 | 41.3 | 60 |
| 2008/06/21 10:41 | 75.5 | 41.3 | 60 |
| 2009/06/18 12:31 | 185.9 | 43.0 | 64 |
| 2009/06/19 12:08 | 130.5 | 43.0 | 80 |
| 2009/06/20 12:51 | 72.4 | 43.0 | 84 |
| 2009/06/21 12:24 | 17.1 | 43.0 | 58 |
| 2009/06/22 12:37 | 320.3 | 42.9 | 88 |
| 2010/05/08 14:06 | 278.2 | 45.5 | 80 |
| 2010/05/28 14:00 | 231.4 | 45.1 | 64 |
| 2010/06/24 10:31 | 158.1 | 44.5 | 92 |
| 2010/06/25 10:15 | 102.4 | 44.5 | 124 |
| 2010/06/30 10:13 | 180.7 | 44.4 | 96 |
| 2010/07/01 10:00 | 124.9 | 44.4 | 112 |
| 2011/05/22 14:46 | 153.2 | 46.8 | 52 |
| 2011/06/01 13:58 | 311.6 | 46.6 | 72 |
| 2011/06/02 13:53 | 255.4 | 46.6 | 76 |
| 2011/06/06 14:26 | 28.7 | 46.5 | 64 |
| 2011/06/07 13:55 | 333.6 | 46.5 | 40 |
| 2011/06/11 13:49 | 108.4 | 46.4 | 52 |
| 2011/06/12 11:54 | 56.6 | 46.4 | 64 |
| 2011/07/15 09:01 | 3.9 | 45.6 | 64 |
| 2012/05/12 13:30 | 248.8 | 48.4 | 104 |
| 2012/05/13 13:50 | 191.6 | 48.4 | 120 |
| 2012/05/14 13:55 | 135.1 | 48.4 | 92 |
| 2012/05/15 14:02 | 78.4 | 48.4 | 120 |
| 2012/05/16 14:02 | 22.1 | 48.4 | 96 |
| 2012/05/17 13:58 | 325.9 | 48.4 | 104 |
| 2012/09/09 06:12 | 344.0 | 46.3 | 40 |
| 2013/05/21 13:54 | 45.9 | 49.7 | 64 |
| 2013/06/01 12:47 | 148.7 | 49.5 | 134 |
| 2013/06/12 13:33 | 247.1 | 49.3 | 66 |
| 2013/06/26 10:38 | 185.1 | 49.0 | 96 |
| 2013/06/27 10:37 | 128.8 | 49.0 | 104 |
| 2013/06/30 10:31 | 320.0 | 48.9 | 100 |
| 2013/07/27 08:30 | 243.4 | 48.4 | 104 |
| 2014/08/20 07:25 | 278.9 | 49.3 | 64 |
| 2014/08/21 06:19 | 225.2 | 49.3 | 62 |
| 2014/08/23 07:02 | 110.8 | 49.3 | 100 |
| 2014/08/25 06:51 | 358.5 | 49.3 | 104 |
| 2014/08/26 06:42 | 302.5 | 49.2 | 108 |
| 2014/08/27 06:43 | 246.1 | 49.2 | 128 |
| 2014/08/28 06:42 | 189.8 | 49.2 | 112 |
| 2014/08/29 06:51 | 133.1 | 49.2 | 112 |
| 2014/08/30 06:53 | 76.7 | 49.2 | 120 |
| 2014/08/31 06:46 | 20.6 | 49.2 | 108 |
| 2015/07/03 10:52 | 40.5 | 51.6 | 128 |
| 2015/07/04 10:29 | 345.1 | 51.6 | 108 |
| 2015/07/05 10:58 | 287.6 | 51.6 | 72 |
| 2015/07/06 10:27 | 232.5 | 51.6 | 116 |
| 2015/07/07 10:27 | 176.1 | 51.5 | 116 |
| 2015/07/08 10:29 | 119.7 | 51.5 | 104 |
| 2015/07/10 10:29 | 7.0 | 51.5 | 104 |
| 2015/07/12 10:27 | 254.4 | 51.4 | 116 |
| 2016/07/04 10:32 | 233.6 | 52.8 | 104 |
| 2016/07/05 10:28 | 177.5 | 52.8 | 120 |
| 2016/07/06 10:29 | 121.1 | 52.8 | 116 |
| 2016/07/07 10:29 | 64.7 | 52.8 | 120 |
| 2016/07/08 10:17 | 8.9 | 52.7 | 135 |
| 2016/07/09 10:22 | 312.3 | 52.7 | 128 |
| 2017/05/21 14:41 | 127.9 | 54.7 | 68 |
| 2017/05/22 14:29 | 72.0 | 54.7 | 76 |
| 2017/05/23 14:30 | 15.7 | 54.7 | 80 |
| 2017/05/24 14:36 | 319.1 | 54.7 | 68 |
| 2017/05/25 13:57 | 264.2 | 54.6 | 139 |
| 2017/05/26 14:24 | 206.8 | 55.8 | 88 |
| 2018/05/15 14:08 | 52.1 | 55.8 | 116 |
| 2018/05/16 14:04 | 355.9 | 55.8 | 124 |
| 2018/05/17 14:06 | 299.5 | 55.8 | 124 |
| 2018/05/18 14:06 | 243.1 | 55.8 | 120 |
| 2018/05/19 14:04 | 186.8 | 55.8 | 124 |
| 2018/08/12 07:45 | 92.8 | 54.3 | 120 |
| 2019/06/12 12:14 | 223.5 | 56.4 | 112 |
| 2019/06/13 11:41 | 168.4 | 56.4 | 128 |
| 2019/06/14 11:29 | 112.5 | 56.4 | 134 |
| 2019/06/15 12:04 | 54.8 | 56.4 | 124 |
| 2019/06/16 11:42 | 359.4 | 56.3 | 120 |
| 2019/08/27 07:42 | 272.6 | 55.1 | 108 |
| 2019/08/28 07:35 | 216.5 | 55.1 | 116 |
| 2019/08/29 07:33 | 160.2 | 55.1 | 120 |
| 2019/09/01 07:46 | 350.7 | 55.1 | 100 |
| 2020/05/28 13:24 | 234.1 | 57.4 | 116 |
| 2020/05/29 14:05 | 176.2 | 57.4 | 120 |
| 2020/05/30 14:00 | 120.0 | 57.4 | 120 |
| 2020/05/31 13:21 | 65.2 | 57.4 | 128 |
| 2020/06/01 13:57 | 7.4 | 57.4 | 112 |
| 2020/08/31 06:44 | 297.8 | 56.0 | 143 |
| 2020/09/01 06:39 | 241.7 | 56.0 | 143 |
| 2020/09/02 06:42 | 185.2 | 56.0 | 128 |
| 2020/09/03 06:42 | 128.9 | 56.0 | 112 |
| 2020/09/04 06:36 | 72.8 | 55.9 | 128 |
| 2021/05/19 14:10 | 323.9 | 58.3 | 100 |
| 2021/05/20 14:07 | 267.7 | 58.3 | 100 |
| 2021/05/21 13:55 | 211.8 | 58.3 | 76 |
| 2021/05/24 14:09 | 42.2 | 58.2 | 100 |
| 2021/09/18 06:14 | 309.4 | 56.7 | 120 |
| 2021/09/19 06:22 | 252.8 | 56.7 | 112 |
| 2021/09/20 06:20 | 196.5 | 56.6 | 116 |
| 2021/09/21 06:20 | 140.2 | 56.6 | 120 |
| 2021/09/22 06:18 | 83.9 | 56.6 | 120 |
(see this 2013 paper for details regarding data up through 2012/09/09, and this paper for details of the 2013 data)
(contact Bryan Holler, Will Grundy, Leslie Young, and Cathy Olkin for details on 2014 and newer data)