<! Real keywords: Patroclus - Menoetius, mutual events, binaries, Jupiter Trojans. keywords: evolution of species natural selection sex excretion scrotum boobs 1st amendment jasmine revolution egypt tunisia libya bigot abortion human rights vagina shit fuck homosexual nipple charles darwin lesbian erection clitorus secular humanism cunt erotic liberal anus anarchy penis fornication blasphemy sodomy rick santorum taiwan china tiananmen syria A person, organization, or nation using censoring software to block access to documents containing words such as these violates the key principle of the free exchange of ideas that the internet was founded on and should not have access to this document. >

The Upcoming Mutual Event Season for the Patroclus - Menoetius Trojan Binary

Published in 2016: Icarus 305, 198-202.

W.M. Grundy1, K.S. Noll2, M.W. Buie3, and H.F. Levison3.

(1) Lowell Observatory, Flagstaff AZ 86001.

(2) NASA Goddard Space Flight Center, Greenbelt MD 20771.

(3) Southwest Research Institute, Boulder CO 80302.
---
Abstract
We present new Hubble Space Telescope and ground-based Keck observations and new Keplerian orbit solutions for the mutual orbit of binary Jupiter Trojan asteroid (617) Patroclus and Menoetius, targets of NASA's Lucy mission. We predict event times for the upcoming mutual event season, which is anticipated to run from late 2017 through mid 2019.
---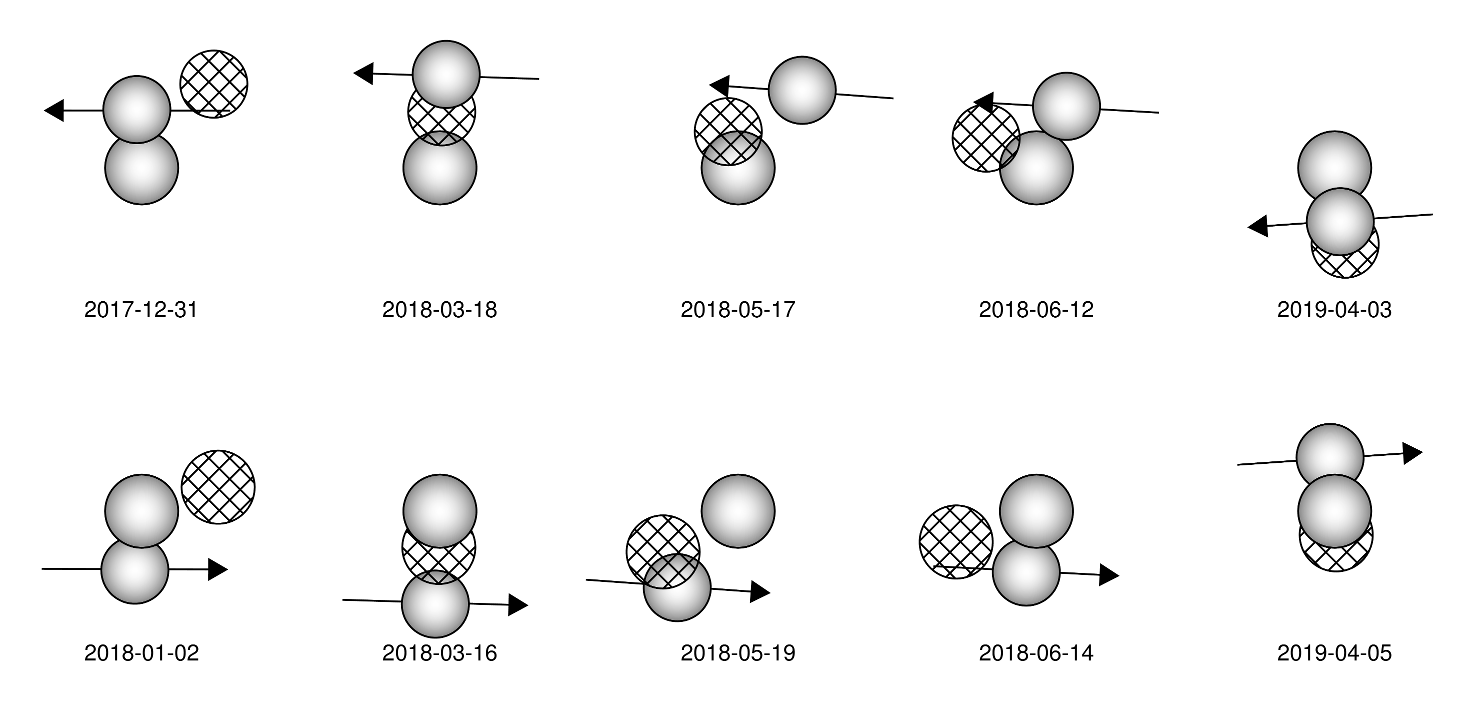 Fig. 1. Schematic diagram of selected Patroclus - Menoetius mutual events. Patroclus is the larger body and Menoetius is the smaller one with the arrow indicating its motion relative to Patroclus over 6 hours. The hatched region is the shadow of the foreground object at the distance of the background object. The top row shows examples of "inferior" events, when Menoetius occults (blocks the view of) or eclipses (casts its shadow onto) Patroclus. The bottom row shows "superior" events, when Patroclus occults or eclipses Menoetius. The 2018 March and 2019 April events coincide with dark time near opposition, making them convenient to observe from a single observatory, if it is located at a suitable longitude. But more information can be derived from a sample of events covering as much of the season as possible. Examples of especially rich events include those of 2018 June, where occultation and eclipse components are well-separated in time and distinct in depth, resulting in highly asymmetric event lightcurves.
---
Resources associated with this paper
The times of these predictions are observation times at Earth, accounting for light travel time.
The event depths indicated in these predictions are not brightness changes, or magnitudes, or anything like that. It is the maximum overlap between the pair of circles representing the two objects (in an occultation event) or one object and the shadow of the other (in an eclipse event). This number is near zero for a grazing event, and 1 for an event where the centers of the circles coincide.
Stay tuned for further updates!