Jeffrey C. Hall
Director
Lowell Observatory
1400 West Mars Hill Road Flagstaff, AZ 86001

Email: jch [at] lowell [dot] edu
Facebook: Jeffrey Hall
Twitter: JeffreyCHall
&nbsp

RESEARCH

Wes Lockwood, Brian Skiff, and I are pleased to thank the National Science Foundation for their continued support of the SSS project. Observations will be continuing through early 2011.
Proceedings of the Second Annual Lowell Observatory Fall Workshop entitled Solar Analogs: Characteristics and Optimum Candidates, held October 5-7, 1997. Eventually I'll fold this into the main SSS site, and the pages are formatted in Jurassic HTML, but serviceable until I have time to give it a fresher skin.
One solar cycle after Solar Analogs, we are hosting Solar Analogs II. The conference will be from September 20 to 23, 2009.

Stellar Chromospheric Activity
I've published an invited review entitled Stellar Chromospheric Activity in the online journal Living Reviews of Solar Physics.
OUTREACH

In 2002, I had a wonderful opportunity to travel to Barrow, AK, in the dead of winter, to do some astronomy classes at the local elementary and high schools. Read my travelogue here.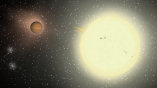 Astronomical Imagery
I've become interested in CGI rendering while doing multimedia shows for use at Lowell. Two of my renders are used for the background images on the home page of the Lowell Web site.
FUN STUFF
A cool concept in cycling one of my graduate thesis advisors brought to my attention back in the 1980s. I've been tracking my "Eddington number" over many mountain bike rides ever since. It's very similar to the researcher's h-index, incidentally.